Luján Joins USDA Secretary Vilsack, State and Local Leaders for Wildfire Recovery Discussion Ahead of Hermit's Peak One-Year Anniversary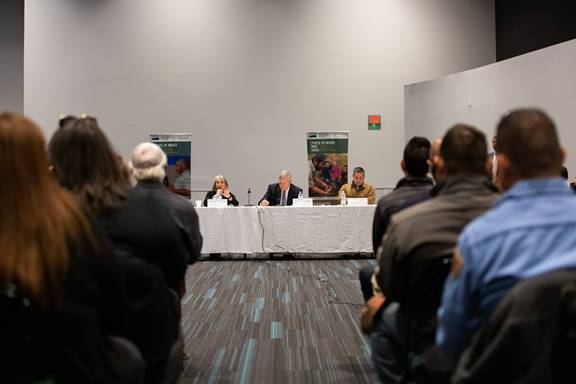 Las Vegas, N.M. – Today, U.S. Senator Ben Ray Luján (D-N.M.) hosted U.S. Department of Agriculture (USDA) Secretary Tom Vilsack for a discussion ahead of the one-year anniversary of the Hermit's Peak Fire. During the event, Senator Luján, Secretary Vilsack, Governor Michelle Lujan Grisham, and state and local leaders heard directly from impacted members of the community.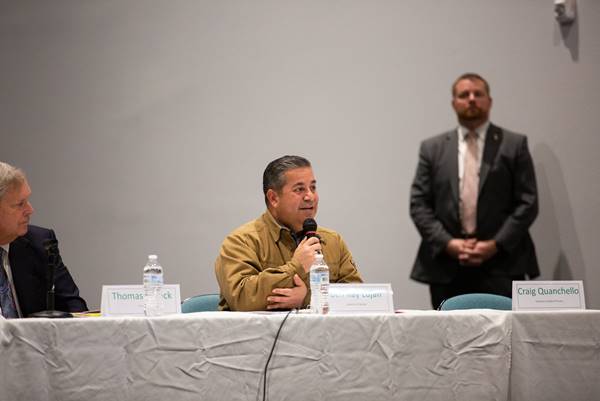 "It's been one year since the devastating Hermit's Peak Fire consumed thousands of acres of land, destroyed hundreds of homes, and disrupted the lives of so many. As we reflect on this difficult time, it's clear that the recovery process has just begun," said Senator Luján. "From the beginning of this crisis, I fought for additional federal resources and secured passage of my legislation, the Hermit's Peak/Calf Canyon Fire Assistance Act, which delivers $3.95 billion in aid to northern New Mexico. Today's discussions made clear our recovery will take all of us working together to get this wildfire relief out to New Mexicans that need to rebuild their homes and businesses."

"This administration is committed to leveraging every partnership at the local, state and federal levels to make whole the thousands of New Mexicans affected by the largest fire in our history," said Gov. Lujan Grisham. "It's critical that today, tomorrow, and in the years to come we continue to work together to keep up the momentum in finding solutions to the near- and long-term impacts of this fire to New Mexicans."

Background: Last year, Luján and the New Mexico Congressional Democrats successfully passed the Hermit's Peak/Calf Canyon Fire Assistance Act to establish the Hermit's Peak Claim Office within FEMA and provide $3.95 billion for New Mexico families and businesses impacted by wildfire. The legislation also required USDA to cover 100 percent cost share for its programs. The Hermit's Peak/Calf Canyon Fire Assistance Act is led by Senator Luján and Representative Leger Fernández, and co-sponsored by Senator Heinrich and Representative Stansbury.
###